You Can Help New Horizons by Donating --
Just Click the "Make A Gift" Button on the right.
---
OPEN INTERVIEWS
DIRECT SUPPORT PROFESSIONALS

Open interviews have been cancelled for this week but will resume next week.
---
Updated Information on NHR's Response
to SARS-CoV-2 (aka Corona Virus)
123 West Road Day Hab NY Forward, June 3, 2021
Click Here
COVID-19 Safety Plan for Certifed Day Program Re-Opening for 123 West Road
Click Here
West Road Admin NY Forward Plan, March 21, 2021
Click Here
New York Forward Safety Plan for the West Road WOW Program Day Hab
Click Here
Covid 19 Safety Plan for Certified Day Program Reopening for West Road WOW Program Day Hab
Click Here
New York Forward Safety Plan for Napanoch Day Hab
COVID-19 Safety Plan for Certified Day Program Reopening for Napanoch Day Hab
Information on how to Reduce your Exposure to Corona Virus
---
DSP apprentice says
"she always wants to learn more"
Mary Owuor has worked at NHR for seven years and is still excited to learn more about enabling the people we support to achieve their personal potential and live active lives in their community.
Mary has already completed DSP1 and DSP2 programs at Dutchess Community College and received her certificate in Direct Care. Now she has taken another step in her career path by enrolling in NHR's apprenticeship program, where she will spend the next two years working with a mentor to strengthen her leadership skills and broaden her knowledge about the diverse needs of the people we support.
Mary outside her home
class The apprenticeship program offers a different way to learn because you can discuss specific situations with your mentor and discuss actions that could be taken if you face you face a similar problem at a later time.
"The internship program is helping me become a better advocate because I can communicate more effectively with managers about a person's needs, she said. "It is continually helping me to understand clinical behavior so I can quickly analyze and deescalate the situation."
Over time Mary would like to use all she is learning to advance into a coordinator or supervisory role. She has learned many new skills through DSP1 and DSP2 and is now learning additional leadership skills in the workplace. In this program she also has a mentor who works one-on-one with her to prepare her for these roles. She feels the more she learns, the more it will benefit the people she supports and her colleagues.
"I like the opportunity to expand my skills and responsibilities," Mary said. "Learning never ends and you can't just be comfortable where you are. It takes time management and patience but I am committed to doing it."
---
Three Ladies from NHR Celebrate Their First Year in a Luxury Apartment
Time flies and soon it will be one year since three young women receiving supports from New Horizons
Resources moved into Brookside Apartments, a luxury complex in Pleasant Valley across from our administration building at West Road.
The three young women had either been roommates or friends at another complex and have easily adjusted to sharing the upstairs apartment in a two-story complex that includes three bedrooms, an in-house washer/dryer and two full bathrooms. They also have one central heat/central air system which is much easier for them.
Karen Coburn, Wendy Hawkins and Kay Cooper are unanimous in saying that the new apartment is safe, makes their lives easier and has given them new opportunities.
"The apartment has a lot of security and they do a very good job of cleaning the snow from the sidewalks," said Kay Cooper. "We met a lady whose husband is a sheriff and she told us that they would help us with anything we needed.
At Christmas they participated in an activity where they received a surprise on their doorstep and they also left a holiday package for another neighbor. The ladies were happily surprised with a wrapped basket that included brownie mix, cookie mix, mugs and measuring cups.
During the warmer months the ladies will be able to use the outdoor spaces to barbecue and also to exercise. Once the Covid-19 pandemic is under control they will also have access to a swimming pool in the summer and a year-round exercise center. There is a small movie theater in the community area of the complex that will eventually return to having regular movie nights.
Although it is harder to exercise outdoors in the winter, the ladies said Brookside has been great about clearing the sidewalks so they feel safe walking outside even in the cold and snowy weather. "We can get a lot of exercise," Karen said. "We go up and down the stairs, walk outside and Kay is getting us an exercise machine."
The ladies also said they get a lot of exercise doing work around the house. "We do a lot of cleaning," Wendy said. "Also, we do our own laundry and this keeps us busy."
Program Director Melissa Frank is very happy with the new apartment and the spacious environment they now have. "They have two recliners and a couch so there is plenty of space in the common areas," Melissa said. "They also have a table and chairs in the dining area where they can still see the TV when they are eating."
---
Keeping Active and Busy Despite Covid Restrictions
Some quarantine measures still remain in place, but people receiving supports from New Horizons have remained active. They have kept up their regular routines and pastimes while remaining in their homes. With the support of their staff, they have recreated some of their day program activities at home and taken on new projects to remain active and intellectually challenged.

Steve Chiera bowling at Miron Drive.
Each of our houses are unique and the activities need to be customized to meet each individual's needs. La Toya Crumsey, Administrative Coordinator at Miron Drive in Poughkeepsie, said that maintaining a sense continuity in each resident's routine was a way that has helped them cope with the quarantine.
"Since our residents could not go to day their day programs we tried to rebuild their routines within the house," LaToya said. "We structured their day so they had as much of their day program activity as possible. We even incorporated their favorite games such as Jenga and Uno so they felt comfortable."
LaToya also noted that all Miron residents use Facetime so they have visual contact with their families and most residents do this two or three times a day. "This way now that we are beginning to have regular visits they are ready and calm."
Evan Thomas, Evan King, Hannah Smith and Marco Godoy from Jansen Road spoke with us about the quarantine and said it was difficult because they could not see their families but they have kept very busy and tried to be productive.


Stained glass project at Jansen.
"I color and read books," said Evan King. "We also have a treadmill in our house so we are able to exercise."
Hannah Smith, who typically volunteers at the local fire department said she misses her work and looks forward to getting back to it when the quarantine is lifted. She is very glad though that the firefighters she has worked with have kept up with her via text during the quarantine.
As a house project, Jansen also cut out paper shapes and colored them to make the French doors going out to their deck look like they had been done over with stained glass. The finished product was shared across NHR and the rest of the community on Facebook.
Colleen Burnett, of Canal Path has kept busy during the quarantine by focusing on her crocheting, which is both functional and artistic. Colleen crochets blankets, scarfs and booties, some of which she sells or gives away as gifts. Some of her work has also been displayed at community art shows.


Colleen Burnett in her craft room at Canal Path.
In the past Colleen has done crochet projects with her friend Marie Moncure, who lives nearby in Pinewood. They can't get together in person during the quarantine but they do projects and talk together over Facetime.
Colleen also likes to cook and likes to make dinner for the house as often as possible. Her favorite meals are meat loaf and making pot pies. When she is not busy with cooking and crocheting, there is plenty of work to be done keeping up her own room and her crafts room.
While everyone is looking forward to being totally released from quarantine, each person has been able to find projects that have helped them develop their skills until they are able to have more time out in the community.
---
NHR's Facilities team uses quarantine to focus on exterior projects

As any home owner knows, maintaining a house is a task requiring ongoing vigilance and good money management.


At New Horizons, our Facilities team includes Director Angelo Barcia and staff Doug Schwall, Tommy Larson, Anthony Palazzo, Joe DeVito, Corey McGrath and Cheryl Ellis. Together they maintain 30 houses as well as our barns and property at Briggs Farm. Since the start of the Coronavirus pandemic, the team is only able to enter one house each day unless there is an emergency, so they are taking this time to focus on updating the outdoor spaces on our properties.

"Taking care of the interior spaces to ensure the safety and comfort of our residents in 30 houses takes up a lot of the time of our maintenance team," Angelo said. "Since we have to limit the time we enter the houses during the quarantine, it is giving us some additional time to work on the outdoor spaces."

The exterior work will provide additional space for outdoor activities and alternative exit routes from the house in case of an emergency.




Katie Briggs is the Administrative Coordinator at Pleasant Valley where they had an update to the outdoor space and said these updates provide more than just safety. "The guys like to do certain things like arts and crafts together and the outdoor space is big enough to let them be together while maintaining social distance."

Despite the challenges of the current environment, Angelo said that the team has been able to leverage their own ingenuity to make homes safer and ensure the outdoor spaces can fight off the elements. "The team at Roundhill discovered water damage on the sustaining boards under the deck," he said. "They worked together to find a cost-effective coating material that they can install themselves and will keep the boards protected for a longer period of time."

According to Jane Brooker, the Administrative Coordinator at Roundhill in Poughkeepsie, the outdoor space is valuable for many reasons. "The outdoor work is great because the ladies love to sit out on the deck and this enables them to be outside, she said. "The update to the ramp is also great because in addition to being an emergency escape route, some of the residents prefer it as an easier way to enter and exit the house."

The outdoor work is also an interesting activity for some of the residents to focus on during the quarantine. "Some of the ladies at Roundhill have gotten very interested in watching the work get done and keep close track of the progress," Jane said.




When it is necessary, indoor maintenance can still be completed. Each member of the team is assigned to a certain number of houses. They will be called when there is a problem in the house and they respond to assess what needs to be done. Depending on the issue, we may require additional members of the team to get involved in the project. When emergencies come up they are ready to pull the necessary team members to address them.

Angelo said, "We work directly with Sandi Swan, our Assistant Executive Director, to ensure that when we need to enter a house, we only bring the people we need, we are wear-ing the necessary PPE and the house manager is alerted to our arrival so they can maintain the safety of the people we serve and the staff."

The team works hard to ensure that materials we purchase come from our local vendors and material for the updates have come from Williams Lumber, Lowes and Page. If they need additional materials for an unexpected project they have the relationships to get what they need locally.

Everyone on the team is looking forward to the time when the quarantine is no longer necessary, but until then they will use this time to enable the people we support to be have a good quality of life while remaining safe.


---
Napanoch Day Hab is Up and Running
New Horizons Resources expanded its community programs in Ulster County earlier this year with the opening of a Community Hab facility in Napanoch, NY.
The new program will accommodate the safety needs of people we support who have Prader Willi syndrome as well as other people we support who live in Ulster County. We currently have twelve attendees and can support up to 20.
The Day Hab is designed to meet the individualized needs of each participant so they are able to be physically, intellectually and socially engaged. There are opportunities for reading, educational and vocabulary programs, as well as opportunities to play games or exercise. Attendees will also get to spend time on community outings.
---
NHR Residents Enjoying Community Life
New Horizons Resources' mission is to enable the people we support to live fulfilling lives in their local communities. One of the simplest ways to do that is just to get out and enjoy community life or spend your time doing an activity. Despite the winter weather our residents have enjoyed community activities.
The gentlemen from Overlook enjoyed a Saturday out at Spins Bowling. They had a great time playing laser tag and winning prizes at the Arcade.
Above left: NHR Direct Support Professional Ma'leec Johnson with brothers Shawn and Frankie McCann as they get ready for a snack.
Above right: Frankie McCann and his prizes from the arcade.
Bounce was the destination for some of our Morehouse residents to have fun and get some exercise.
Above left: Heather Hoffman after taking a dive into the sponge balls.
Above right: Cooling down on the mats.
Dwight Street residents Todd Lehrer and John Lee enjoyed the Black History Month Film Festival at Dutchess Community College.
Above: Todd and John waiting for the movie to begin.
---
New Horizons Resources presents its 2019 Goldman Award
New Horizons Resources presented its most prestigious recognition for the services of Direct Support Professionals, the annual Goldman award, to Administrative Coordinator Brianna Malvai.
Brianna received the award at the agency's December Leadership meeting for exhibiting on the criteria of "extraordinarily unselfish, principled and mission driven behavior" in her relationships with the people she supports.
Brianna was nominated for the award by Assistant Director for Residential Services Dan Lynch earlier this fall and it was presented by NHR Executive Director Sam Laganaro. Brianna's family and colleagues joined her at the event, which was followed by a holiday brunch.
The Goldman award was established by Sylvia Goldman to honor the memory of her late husband. Mr. Goldman was a loving husband, stalwart yet gentle advocate for people with developmental disabilities and a man loved for his active and personal interest in others. He was a person who taught everyone around him that a successful life is defined more by who you are than what you have done. Mr. Goldman also received services from New Horizons.
---
NHR participates in Pleasant Valley
2019 Festival of Lights
Holiday celebration and community spirit came together on Saturday December 7th when the people of NHR participated in the 2019 Pleasant Valley Festival of Lights. NHR turned a hay wagon into a winter wonderland and joined over 25 other local groups and businesses that lit up main street in Pleasant Valley.
NHR residents of Albrecht and Stormville, joined Com Hab and Respite participants on the float where they wished local residents happy holiday greetings. This year, NHR's event planning group created ginger bread men to join the snowmen in creating a delightful winter scene. Think Differently provided a banner promoting its website where people in the community can learn more about the many support programs available in the Hudson Valley.
---
Briggs Farm is the site of NHR's 2019 Family and Friends Day picnic
On Saturday October 12 NHR hosted its annual Family and Friends Day picnic at Briggs Farm in Poughkeepsie. About 200 attendees enjoyed a catered lunch, outdoor games, face painting and making balloon figures. Since it is apple picking time in the Hudson Valley, each of NHR's houses and our weekend respite program donated an apple-based dessert.
There was also time to visit the farm animals, which now includes four goats and Dominic the Donkey. A DJ ensured there was music all afternoon and the day was capped off with many of the attendees dancing.
---
NHR Resident Honored for 30-Year Work Anniversary
Tom Jordan, who receives services from New Horizons, was honored on June 4th, by Dutchess County Executive Marc Molinaro for his 30-year work anniversary with Hannaford's in Highland, NY. The award was given at a Jobs Roundtable held at the FDR Library in Hyde Park, NY.
Tom began working at the store thirty years ago when it was Grand Union and was invited to stay on when it became Hannaford. For years he has been an integral component of ensuring a positive customer experience for all shoppers. He collects shopping carts, bags groceries and makes sure the store is neat and clean.
At the event he was honored for "his skills, hard work and the person he is."
"I feel very honored because I know the store appreciates my work," Tom said.
---
KeyBank Awards NHR $10K Grant to Support Employee Education
Thank you KeyBank for your generous $10,000 contribution to New Horizons Resources. The money we received from KeyBank will help us pay for employee certifications in skills such as CPR, choke prevention and first aid. It will also help fund our college tuition reimbursement fund. We are truly grateful for your support.
---
New Horizons Resources Unveils Its
New Multi-Sensory Environment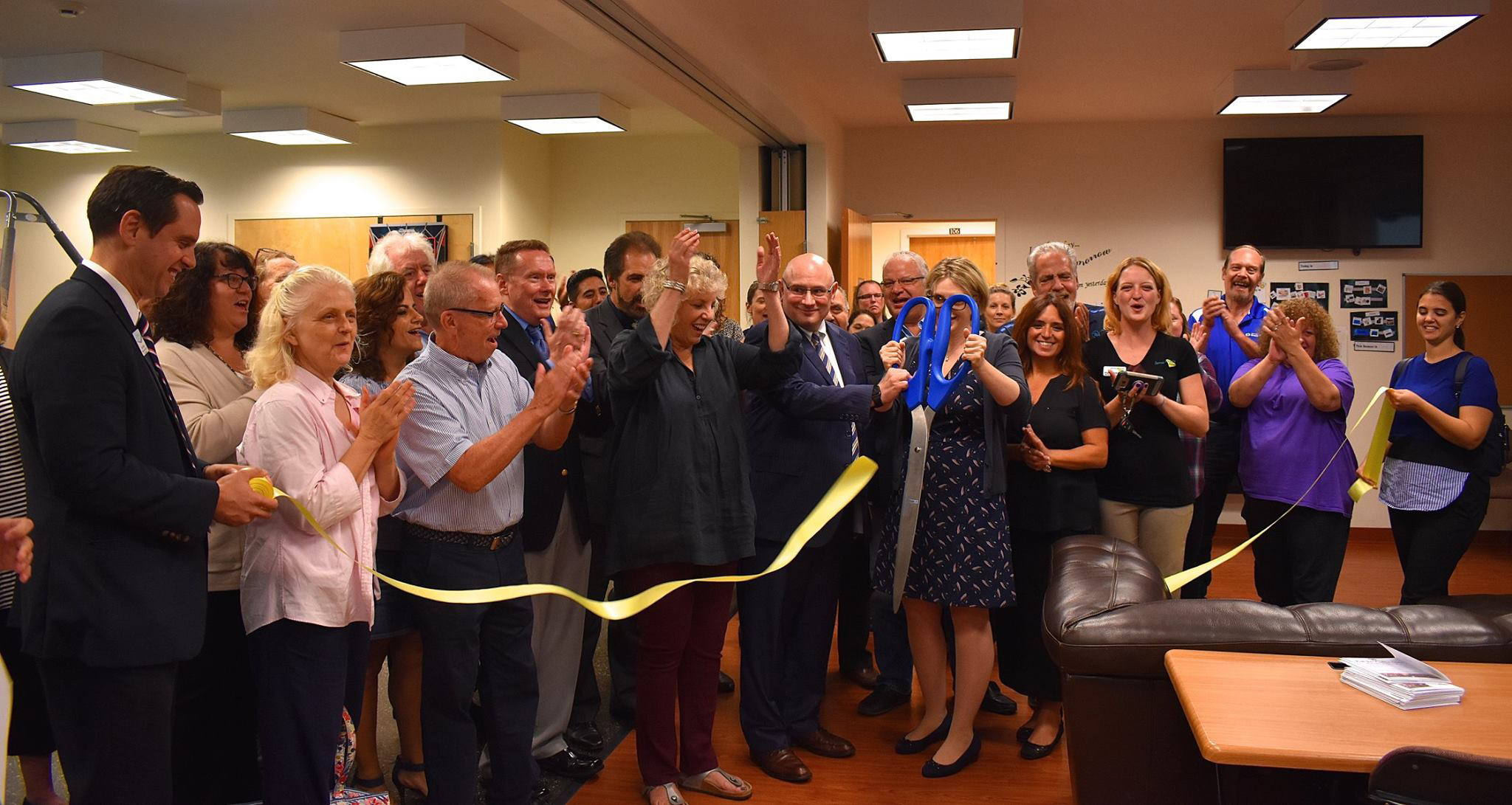 Community Leaders, staff, family members and members of the Dutchess Chamber of Commerce, joined NHR Executive Director Sam Laganaro and Assistant Director of Day and Community Supports Mary MacNamara
New Horizons Resources, Inc. has officially opened a multi-sensory room at our administration building in Pleasant Valley. This new resource will extend our ability to support people with Autism and other developmental disabilities who process sensory stimulation differently.
The room will initially be used to support people attending NHR's day hab program but will be extended over time to others who could benefit from the environment.
"The multi-sensory room helps the people we support with sensory processing and establishing relationships," said Mary McNamara, NHR's Assistant Director of Day and Community Supports. "The staff is trained to assess an individual's emotional and sensory needs and create a multi-sensory environment specifically for them."
The room is designed to block out certain types of noise or visual stimuli and increase the types of sound that are calming and help people maintain emotional balance. Over time, the sessions can help people feel more comfortable in all their environments.
Sam Laganaro, NHR's Executive Director said, "NHR is excited to be extending our ability to support people with Autism and others who have sensory issues with the development of our multi-sensory environment. We owe our sincere thanks for the generosity and encouragement of the Autism Society of America, Hudson Valley, and family members of people we support who provided funding necessary to accomplish this."
He added, "We thank our colleagues at the Taconic DDRO at the NYS Office for People With Developmental Disabilities who supported the development of our day habilitation program at West Road. We would also like to recognize and thank Linda Messbauer who has ably assisted NHR in development and setup of the environment and training NHR's staff to effectively use this new resource."
Frank Castella, President of the Dutchess County Regional Chamber of Commerce presided over the ribbon cutting. Elected officials attending included Assemblywoman Didi Barrett and Pleasant Valley Town Supervisor, Mark Figgliozzi. Deputy Commissioner for Special Needs, Toni-Marie Ciarfella also attended.
---
New Horizons Resources, Inc. is a not-for-profit agency that provides services to children and adults who have developmental disabilities and live in the Hudson Valley region of New York State.
NHR was founded in 1974 by a group of parents seeking alternatives to institutionalized care for their sons and daughters. In 1981, the agency opened its first residences for adults with developmental disabilities.
The agency's founders wanted to create services that would provide a home and the reasonable assurance of lifetime care. They also wanted to give people with disabilities opportunities to build friendships and establish relationships in their communities.
Today, NHR offers services to 450 people who have disabilities where they need them most: in their homes, at their work sites, or in our community-based residential programs.
The goal at New Horizons is to provide individuals who have developmental disabilities with opportunities and environments where they learn the skills and develop the confidence needed to live their lives as independently and as happily as possible.
To learn more about our services, click here.
---